Bacon Eating Contest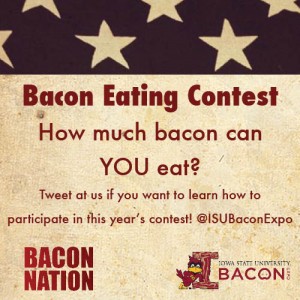 How much bacon can YOU eat? Prove you're the champ of bacon by participating in our Bacon Eating Contest.
Contest begins at 2pm.
Participants will get the chance to eat 1/2 lb. of bacon as fast as they can.
Tweet at us if you want to learn how to participate in this year's contest @ISUBaconExpo.
Sorry the bacon eating contest has reached capacity. If you would still like to be a part of all the fun get your tickets now.