Stories
SERVICE DOGS ATTEND BACON EXPO
Along with students, kids, and bacon-lovers, two German Shepherds were also seen wandering around the Hansen Center on Saturday at the ISU Bacon Expo.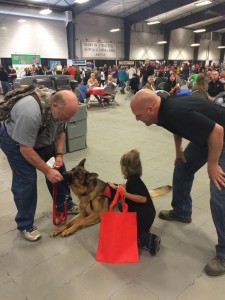 The dogs are part of the Puppy Jake Foundation, a group that raises and trains service dogs that are provided to military veterans at no charge.
A puppy is placed with a volunteer family, living and training with them for 18-24 months. After being trained the canines will serve as companions to wounded veterans, such as those affected by amputations, Traumatic Brain Injury (TBI) and Post Traumatic Stress Disorder (PTSD).
The dogs are trained to perform tasks that wounded veterans may be unable to easily perform themselves, such as opening doors, retrieving items and turning switches on and off. Service dogs are also to proven to help reduce anxieties and depression.
The non-profit organization runs solely on volunteers. Volunteers attend classes prior to receiving a puppy, and then once they receive a puppy they attended weekly class sessions with trainers. Puppy Jake Foundation trains out of Canine Craze in Des Moines, where they go through orientation and class sessions.
However, most training happens out in the community, where dogs become accustomed to what life will be like once they move in with a veteran.
Puppy Jake Foundation volunteer Ron Heideman brought his dog, Vince, to the ISU Bacon Expo on Saturday so the 13-month-old German Shepherd could experience the smells and crowds that the expo produces. Heideman has been working Vince since the dog was just 10 weeks old.
Volunteers and their dogs also attend retreats four times a year. These retreats give the service dogs a change to interact with one another.
Heideman took Vince to Washington D.C. in March, where Vince rode on a plane and subway and experienced tourist activities. The purpose of trips like this is to prepare the service dogs for situations they will encounter once placed with a veteran and their family.
Puppy Jake uses primarily Labrador Retrievers, Golden Retrievers and German Shepherds. "These breeds have great trainability and make good family pets that fit in well with the veteran and their family," said Nora Beving, Puppy Jake Foundation volunteer.
Both Heideman and Beving volunteer as a way to give back to veterans. "When I hear from veterans how the dogs they have received have changed their lives, I know that my hard work will pay off and someone will lead a better life because of it," said Beving.
There are currently 26 puppies involved in the program. For more information on becoming a volunteer or recipient, visit the Puppy Jake Foundation website at www.puppyjakefoundation.org.